Memorials
For thousands of years mankind has felt the need to erect a memorial to mark the sense of loss, love and respect felt for a family member or friend. It provides a focal point of affection and remembrance as a celebration of a much cherished individual life. It is a statement of not being forgotten. It can be an expression of undying love and a help in the grieving process through which we are all likely to go at some point in our lives.
Our Objective
There is a wide range of choice both in product and price. As a result, we hope that you will be able to find a memorial that you feel is appropriate in this setting and at a price which you feel comfortable with.
Please do not hesitate to approach a member of our staff if there is anything which you would like to know more about or simply discuss. They are there to be of assistance to you.
Making Arrangements
Our staff are not only at your service to select a fitting memorial, if you require them to do so; but they will also assist you with the necessary paperwork, and make you aware of the terms, conditions and general regulations.
They can do this on the site, over the phone, via email, by sending information to you in the post or by visiting you at home. The choice is yours.
Home Memorials
Some people may not want to return to the crematorium but still wish to have a fitting tribute to the memory of their loved one in the familiar surrounds of their own home and often where the memories of that person are felt the strongest.
Many of the below options have variations and can be tailored to personal taste. Moreover, we can supply any of the below products and arrange their fitting to any area of the United Kingdom in private addresses, crematoria, cemeteries or churchyards subject to local restrictions and regulations. Please contact us for a personal written quotation.
Garden & Lake Marker
Garden & Lake Markers markers are carved from local stone or from a range of granites from UK quarries. The stone is bored out to allow the incorporation of the cremated remains and are capped with a bronze dedication plate. These may either sit in the water at the edge of the lake or on the path by the lake.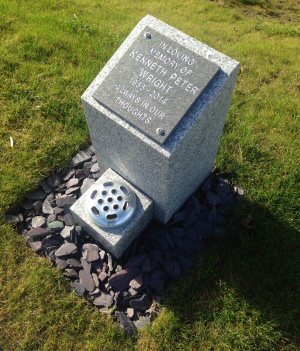 Lakeside Memorial Wall Recess
For those who would prefer their loved ones cremated remains not to be interred, Lakeside wall recesses offer an alternative in a beautiful setting along the path of the lakeside walk. The niches allow for up to two interments to be incorporated into the natural stone wall. A generously sized stone plaque seals the niche and allows personal dedications to be inscribed.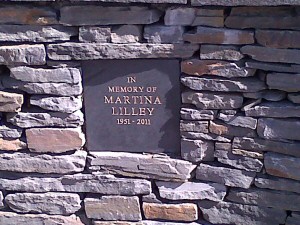 Lakeside Wall Garden Memorial Plots
The hand-built stone wall circle is the central feature of the memorial gardens. The design allows the incorporation of cremated remains to be set in the raised flower garden. The garden is planted with seasonal flowers and the dedication memorial can be either a brass plaque mounted on the jumper stones within the walled garden, or dedication stones, engraved and laid in the interment area. This feature allows for the interment of two sets of cremated remains.
Lakeside Private Memorial Garden
The miniature stone-walled raised gardens provide a unique option for family interment. Up to eight sets of cremated remains can be interred into these dedicated gardens. A range of individual garden styles can be adopted and a brass or stone memorial plate can be mounted on the garden wall.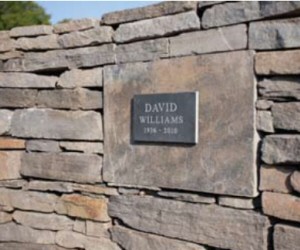 Traditional Headstones
The miniature monolith stone memorial provides a traditional grave setting. Engraving and relief designs for the memorials can be tailored to suit an individual's wishes. There is a choice of two stone types that will be mounted within a defined interment area providing a personal setting for up to four sets of cremated remains.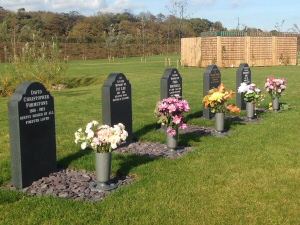 Interment of Cremated Remains
Cremated remains can be interred in the natural burial section of the memorial park. The position can be identified by GIS marker. This feature allows for the interment of four sets of cremated remains.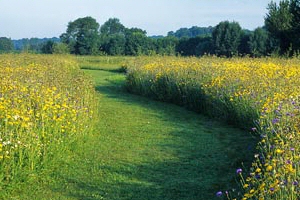 Wall Dedication Plaques
Stone plaques for letter engraving can be made from a choice of stones or brass and are mounted on the numerous dedication walls located around the grounds.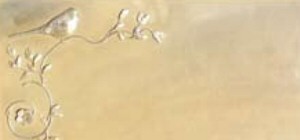 Benches
The polywood bench is 60 inches long; designed to keep its shape and colour, it doesn't suffer from salt, algae, lichen and weathering problems associated with traditional wooden benches. The bench can have up to three brass plaques mounted and inscribed with an individuals dedication.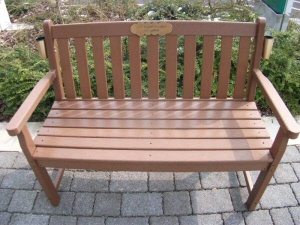 Rose Garden and Marker Plates
A range of classic rose trees and bushes are available with mounted brass and stone dedication plaques.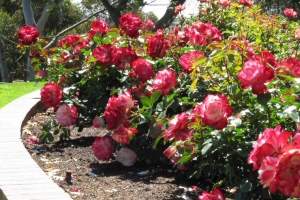 Family Gardens
Private beds have been especially created to provide a natural setting for memorials. Family gardens are dedicated to one family and allow the burial of up to four sets of cremated remains. Each garden is individually planted with a bespoke collection of planting designed by our head of grounds to provide a distinct, private area for you to visit. The price includes the first interment and a granite boulder inscribed with 50 letters.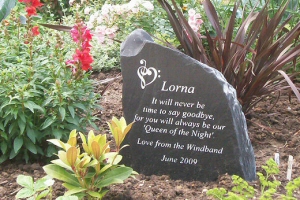 Tree Adoptions
Exclusive adoption of existing avenue tree for 2 interments with renewable lease periods from 10 years, to include plaque.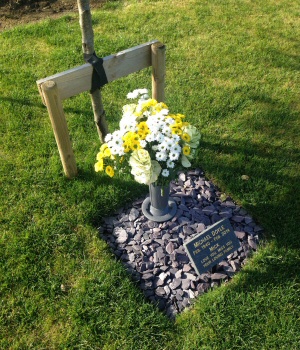 Obelisk Plaques
Plaque on Barbican obelisk with renewable lease periods from 10 years.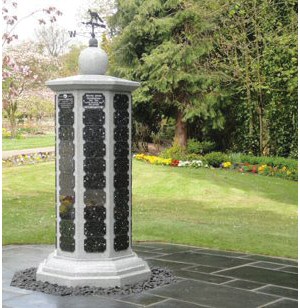 Garden Memorial Plaque
Garden memorial plaques for buried cremated remains, renewable lease periods from 10 years.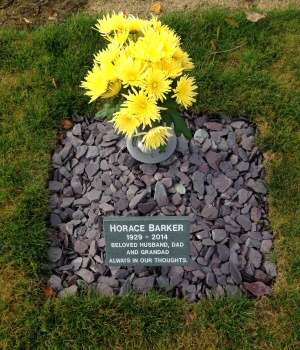 Memorial Vase
Granite splayed memorial vase with renewable lease periods from 10 years to include plaque. Double vase also available (as pictured).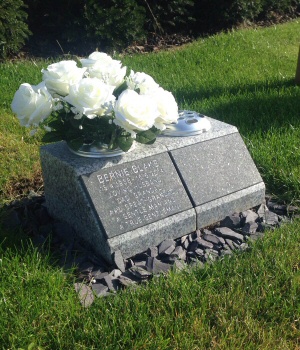 Book of Remembrance
Situated in the main chapel building, entries in the book of remembrance are available and can be viewed during normal opening times.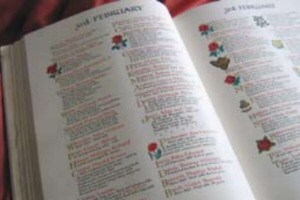 All Memoria crematoria will accept (for no charge) cremated remains for an unattended scattering irrespective of where the cremation took place. Attended scattering services and memorials can also be purchased, at current prices (without surcharge) if desired.