Wear Valley Crematorium
Coundon Road, Coundon, Bishop Auckland, County Durham DL14 8NR.
Tel: 01388 722606
Sold in  2009.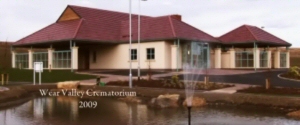 Wear Valley Crematorium was opened in March 2009 to serve the needs of the communities living between Durham and Darlington including such towns as Bishop Auckland. Unlike other Memoria crematoria it is rendered rather than being of a brick finish. This was so it might blend in with other local buildings.
Internally, the chapel is finished in the same serene Memoria colours and soft furnishings while the crematory contains state of the art modem linked cremator and mercury abatement equipment.
All staff were personally selected by Memoria's directors and fully trained both technically and to embody the company's mission statement.
It is undeniably, like all other Memoria crematoria, one of the country's leading facilities.
---