Three Counties Crematorium
Halstead Road, High Garrett, Braintree, Essex, CM7 5PB.
Tel: 01376 553489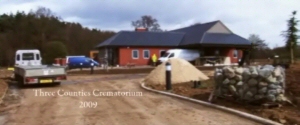 Sold in 2009.
Three Counties Crematorium was opened in April 2009 to serve the needs of Braintree and the surrounding district. It is immediately recognisable as a Memoria crematorium both externally and internally as it boasts all the same hallmarks of quality, serenity and state of the art crematory equipment including mercury abatement.
As usual all staff were personally selected by the directors and fully trained both technically and to embody the company's mission statement.
As with all Memoria crematoria, it is undeniably, one of the country's leading facilities.
---