Charnock Richard Crematorium
Preston Road, Charnock Richard, Chorley, Lancashire, PR7 5JP.
Tel: 01257 230976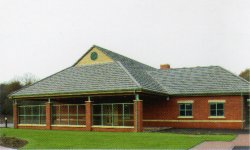 Sold in 2009.
Charnock Richard Crematorium brings to fruition a long held ambition of Chorley Borough Council to bring to an end the previous necessity for long journeys that families were forced to endure to other crematoria across the Lancashire area. This new and tasteful facility provides excellent, comfortable, clean, welcoming and modern facilities which are situated in the open and beautifully peaceful countryside at Charnock Richard.
The building has been designed to incorporate all the important criteria necessary to allow families to commemorate their departed in a reverent and peaceful setting undisturbed by the hectic demands of modern life. Dedicated in September 2007 by the Bishop of Blackburn this facility sets new standards of client care and is already being widely used across Lancashire from Preston to Wigan and from Chorley to Ormskirk. It is open all year to people of all religions or none.
Service times are 45 minutes and thus allow families time to gather and leave without the pressure of other funerals waiting for access. Longer 'celebration' services and private memorial services can also be arranged upon request.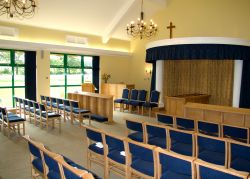 The staff are available at all times to advise bereaved families regarding the crematorium's service facilities and memorial products and would be pleased to discuss any individual queries or requests. They are highly trained and dedicated to carrying out the company's mission statement which requires that everything possible is done to support clients through an obviously sad and traumatic time.
The public areas are furnished to the highest standard and have the feel of serene comfort as one enters the foyer. This is heightened by the use of colours, mainly blues and lemons, which produce an appropriate effect when combined with the solid English oak doors and beech chapel furnishings. Facilities exist for live organ music, tapes or CDs. There is also a hearing loop and a public address system. Through the picture windows in the chapel can be seen a green hillside often covered with sheep, which adds to the appropriately pastoral setting.
The whole ethos of Charnock Richard is geared to caring and meeting the needs of the bereaved. The staff is dedicated to working with funeral directors to ensure that the precise wishes of families are met in the most dignified manner.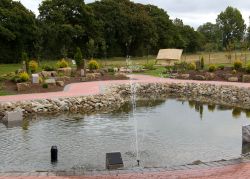 The crematorium is open for inspection at any time by members of the public and holds two services of remembrance a year and an annual Open Day when all those questions about cremation that people want to ask can be fully explained.
It is fair to say that Charnock Richard Crematorium brings a new standard and dimension to funerals in this part of Lancashire and is undoubtedly one of the finest crematoria in the United Kingdom.
Approached down a long drive similar to a country house, the Crematorium sits in some beautiful Lancashire countryside easily accessible from most parts of central Lancashire.
---